Longing for a soap that you can trust is made with pure, all-natural, chemical-free ingredients?
Castile soap should be at the top of the list. This variety of soap represents one of the best natural and biodegradable soaps that can be manufactured by hand.
There are so, so many potential Castile soap uses.
It's not only an excellent soap for washing your body and hair as part of a natural skincare routine, but you can even do the laundry with it — plus, children can safely use it.
Castile soaps are very popular among vegans and vegetarians since they are plant-based. Also, it doesn't lose potency with time and is available in the liquid or bar form.
Speaking of potency, a scientific study shows that Castile positively affected contaminated orthopedic wounds when used to irrigate and ultimately cleanse the wounds.
A comparison was made using normal saline, Castile soap, benzalkonium chloride, bacitracin, or sequential irrigation with all of the above combined.
While subsequent irrigation treatment significantly lowered the rate of wound complications when applied, so did Castile soap all by itself!
What Is Castile Soap?
Castile soaps have been around for a very long time and were created just following the popular Aleppo.
An all-natural, chemical-free soap, Aleppo was made from mixing oil from laurel (bay) trees with olive oil and soda. This is where Castile got its inspiration.
What is soap made of? Generally speaking, soap is often made with animal products like tallow or lard.
What is this soap exactly? It's an oil-based soap, which comes in bar or liquid form, that is created without the use of animal fats or synthetic ingredients.
Pure Castile soap is considered to be all-natural and non-toxic.
Castile soaps originate from the Spanish region of Castile.
While the original recipe for Aleppo soap required laurel oil, this type of oil was in short supply, but the city of Castile had easy access to olive oil.
That enabled the creation of a pure white soap that was very mild and effective. The whiteness was seen as purity, which made it very popular with Spanish royalty.
As the centuries went by, Castile soaps began to make their way all over Europe.
Fast forward to the present day, and Castile is still one of the most famous European soaps. It has also gained a ton of popularity in the United States as well.
You can easily find it in health food stores and first supermarkets today. In addition to olive oil, a bar of Castile may also be made using coconut, hemp, avocado, almond or castor oils.
All of these natural oils add beneficial moisturizing properties to the soap.
Probably the most famous maker of Castile soap is Dr. Bronner. Dr. Bronner's parents began this successful business manufacturing the solvents in the basement of the Heilbronner home in the Jewish quarter of Laupheim, Germany.
Around the 1880s, the Heilbronners innovated the first Castile liquid soap, supplying public washrooms across Germany.
Dr. Bronner that we know on the label today, eventually made way to the U.S., where he continued the family business, ultimately founding Dr. Bronner in the 1940s.
Though Dr. Bronner died in 1997, Dr. Bronner's, the company, became the most significant personal care company to be certified under the USDA National Organic Program, with bar and liquid soaps being approved by the highly-reputable certifier Oregon Tilth.
Top 13 Castile Soap Uses
Castile soap can be used for so many things! Washing your face, body, hair, rinsing fruit, doing laundry, and cleaning windows are just a few of the many potential Castile soap uses. Here are a few of my favorite Castile soap uses and some suggestions on how to create your products using this incredible soap.
For The Home
1. Homemade Dish Soap
Castile soap makes great homemade dish soap. It's all-natural, which means no chemicals on your hands or dishes. Just replace your regular store-bought dish soap with Castile liquid soap, and a few drops will take care of those dirty dishes in no time.
2. Homemade Laundry Detergent
What's great about using Castile soap to clean your clothes is your clothes will likely last longer since they will not be exposed to harsh chemicals.
You can also avoid irritation of the skin from avoiding heavy dyes and perfumes, among other ingredients that are often found in the store-bought versions.
Keep reading for an excellent homemade Castile laundry detergent recipe below!
3. Homemade Dishwasher Soap
You can use it to wash the dishes by hand, but you can also make your soap for the dishwasher too. Try a citrus version as it not only smells fantastic, but the lemon essential oil has been shown to have anti-fungal effects on food-borne molds.
To create your dishwasher soap, mix 8 ounces of Castile liquid soap with 1 cup of water, three teaspoons of lemon juice, and ten drops of lemon essential oil and shake gently.
To use, add one tablespoon of the above mixture into the "open" compartment of your dishwasher and add 1 cup of white vinegar to the "closed" chamber. If you have hard water, add a little more vinegar.
4. DIY All-Purpose Household Cleaner
Using a spray bottle, fill it a quarter of the way up with white vinegar, fill it with water, then add just a squirt of Castile liquid soap, a few drops of tea tree essential oil and a few drops of orange or lemon essential oil. This mixture makes for a safe and natural yet effective household cleaner.
5. Homemade Glass Cleaner
Mix half a cup of white vinegar, two teaspoons of Castile liquid soap and 2 cups of distilled warm water into a spray bottle. You can add a few drops of tea tree and lemon essential oils to the mixture to make it a bit more useful. Blend well by giving it a good shake and spray onto your windows. Use newspaper to clean it, leaving it streak-free.
6. Homemade Tub Scrub
Fill a spray bottle with ⅓ Castile liquid soap and ⅔ water. Spread baking soda liberally around the bath and spray the Castile mixture on top of it. Scrub with a scouring pad or scrub brush for a squeaky clean tub.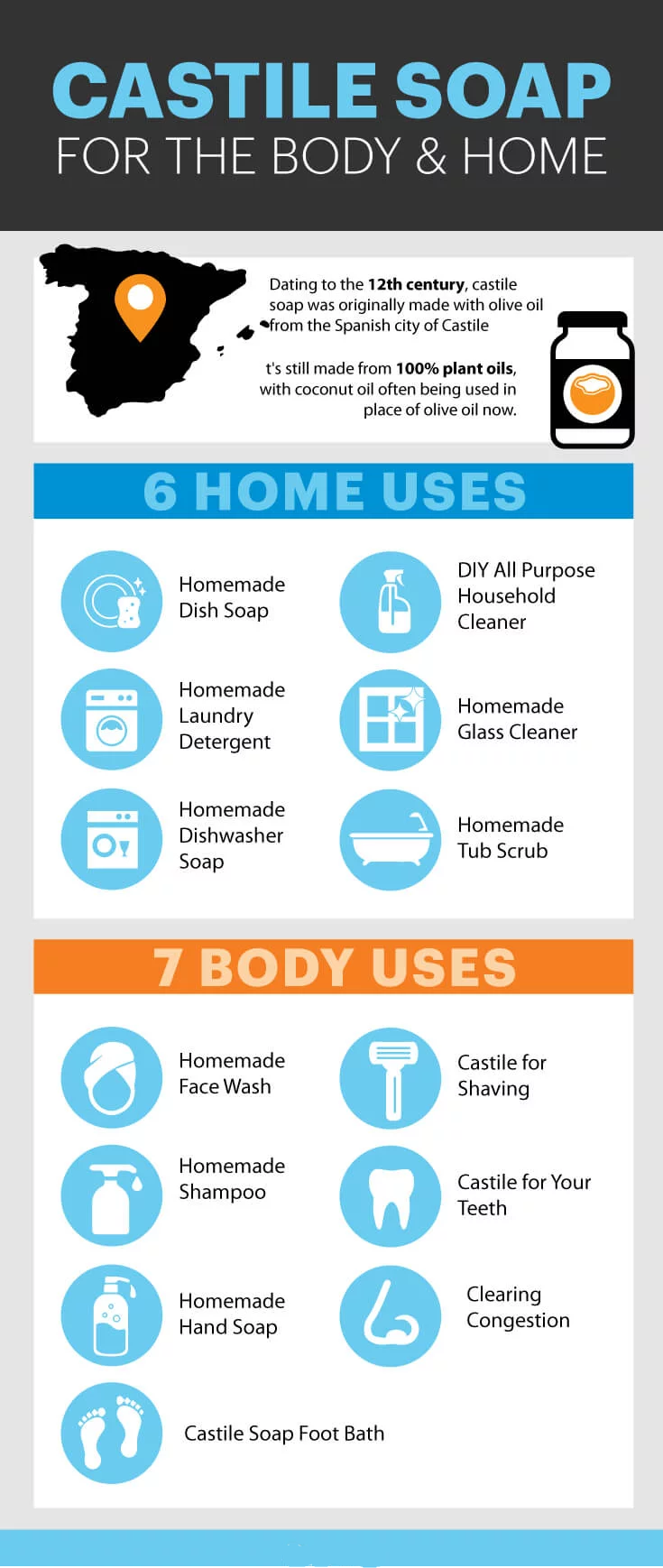 For The Body
7. Homemade Face Wash
Using a foaming dispenser, add ¼ cup of Castile liquid soap and fill it to the top with distilled water. Add five drops each of tea tree and frankincense essential oils. Both oils are known for helping to fight bacteria and can reduce acne.
8. Homemade Shampoo
Making your own Castile soap shampoo is so easy. Plus, you can avoid those pricey, surprisingly toxic shampoos (most of which are filled with chemicals that can cause lots of problems for your hair long-term).
Simply mix seven tablespoons of Castile liquid soap with six teaspoons of coconut milk and ½ teaspoon of coconut oil. This will make about seven applications. It will store best in the fridge for about a week.
9. Homemade Hand Soap
Fill a foaming soap dispenser with ¾ boiled or distilled water and ¼ Castile liquid soap. You can add five drops of tea tree essential oil for its antibacterial properties and lavender oil for its fragrant and relaxing scent.
10. Castile for Shaving
For your face, use about ten drops; for the underarms, three drops should do the trick, and for the legs, use about a ½ teaspoon. Simply work into a lather in wet hands and then apply to the area.
You can also add olive oil to the mix for some added moisture while shaving.
11. Castile for Your Teeth
Would you believe that potential Castile soap benefits include natural teeth cleaning? That's right!
Put one drop of Castile liquid soap, one drop peppermint essential oil, and a small dollop of coconut oil on your toothbrush and brush as usual. Just like with toothpaste, do not swallow.
This is a great way to reap Castile soap's amazing cleansing and disinfectant properties! (Side note: Castile soaps are typically considered disinfectants rather than antibacterial agents, but peppermint oil has inherent antibacterial abilities just like tea tree oil has natural antibacterial power, so when these oils are included, the cleansing and bacteria-fighting ability of the soap is increased!)
12. Foot Bath
Use about one teaspoon of Castile liquid soap in a small tub of hot water and allow the feet to soak for 10–20 minutes. Add a few drops of tea tree essential oil and lavender essential oil for added benefits. Or you can use a version of Castile liquid soap that already includes these vital oils.
13. Clearing Congestion
A Castile liquid soap that contains essential oils like eucalyptus or peppermint can be used to help with nasal congestion due to the common cold or allergies.
Simply add a few drops of the liquid soap with essential oil to a bowl of steamy hot water. Breathe in the mist with a towel draped over the head. Of course, be careful as steam can burn your skin.
Where to Buy and Castile Soap Recipes
As noted, the most popular brand is Dr. Bronner's, but there are other options available as well. Make sure to take the time to read the ingredients to ensure that it is made from pure, recognizable ingredients.
It's not hard to find a Castile soap recipe online that you can start using in your life today! For example, this is how to make Castile Soap Laundry Detergent:
Combine one bar grated, 2 cups washing soda, 1 cup baking soda, and 30 drops of essential oil (optional) in an airtight container.
Use ¼ cup per large load (adjust accordingly, especially for high-efficiency washers, for which you may want to wait until the water runs through the soap dispenser).
Some other pretty amazing uses and recipes:
Precautions and Dangers
A few important warnings:
It's not recommended for use on color-treated hair because it may strip the hair follicles of color.
For hair that is not color-treated, it can be used as a shampoo. Still, to avoid clean yet tangled or matted hair, it's recommended to follow up with an acidic conditioning rinse that contains natural acidic ingredients like lemon juice. Another alternative is to use diluted apple cider vinegar after shampooing with Castile liquid soap.
Castile soaps are considered a base, and it's not recommended to combine them with acids like vinegar or lemon juice (because the resulting mixture will be a curdled solution that will leave behind a film rather than clean surfaces well).
Castile liquid soap combined with hard water can also result in a white film being left behind when the mixture is used on surfaces.
Final Thoughts
What is Castile soap? It's a versatile vegetable oil-based soap that is free of animal products and synthetic ingredients.
You can purchase it as an unscented soap in bar or liquid form. It's also available with scents, typically from the inclusion of various essential oils such as lavender, peppermint, and eucalyptus.
If you're wondering where to buy Castile soap, you can find it at your local health store or possibly even at your closest grocery store.
You can also easily purchase a Castile soap bar or Castile liquid soap through various online retailers.
You can use Castile soap for hair, body, and skin as a shampoo, body wash, and facial cleanser.
Other uses include washing laundry, brushing your teeth, cleaning products, as a general household cleaner … the list goes on and on.
If you're looking for a soap that is natural, non-toxic, not expensive, and extremely versatile, then you may want to consider trying Castile!