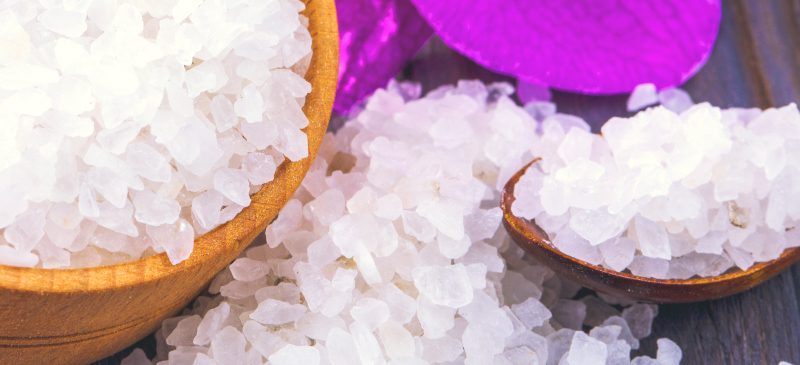 You may have heard of a sitz bath before, but do you know what it is? The name comes from the German word "sitzen," which means "to sit."
During a sitz bath, you sit in a bathtub or basin of warm water to provide healing and pain relief.
There are a number of reasons for your discomfort that may warrant a sitz bath, such as hemorrhoids, an anal fissure, or vaginal birth (a postpartum sitz bath recipe can be an amazing way to help heal from childbirth while offering relaxation).
A sitz bath for Bartholin cysts is also recommended by experts. The list goes on!
Using sitz baths help numerous health concerns by increasing blood flow to inflamed areas.
This is therapeutic because the increased blood flow can provide more oxygen, which promotes healing.
You can buy sitz bath solutions at the store, but it's so easy to make a homemade solution. You simply combine a few key ingredients and add the mixture to the water.
What Is a Soothing Sitz Bath?
A basic sitz bath definition: a pool of water that you sit in, with only your hips and bottom submerged.
Common symptoms that may be relieved by this type of bath include minor pain, irritation and/or itching.
Sitz baths don't have to include anything other than warm water, but it is an option to use other ingredients such as those found in this sitz bath recipe.
Sitz baths can be taken using a specially designed shallow, round basin that fits over your toilet seat. Looking for an alternative? It's also perfectly fine to use your bathtub as long as it's clean.
If you're comparing a sitz bath versus regular bath, a major difference is that sitz bath instructions will direct you to use a shallow basin filled with water or a bathtub only filled up about four inches high,
as opposed to a regular bath, where your entire body (minus your head) is submerged in water.
How does a sitz bath work? Soaking in warm water (that sometimes also includes beneficial ingredients like Epsom salt) is known to boost blood flow while soothing unwanted symptoms like itching, irritation, and pain.
One study showed significant healing with the use of wet heat, which is exactly what a warm sitz bath is.
When Do You Use a Sitz Bath?
Common health concerns that are known to benefit include:
Anal fissure (a small tear in the lining of the anus)
Hemorrhoids
Constipation
Diarrhea
Postpartum perineal pain after a vaginal birth
Prostatitis
Vaginal yeast infections
What solution do you use for a sitz bath? That depends upon which problem you are trying to remedy since different ingredients are known to be helpful for different ailments.
You can even do a one ingredient sitz bath recipes, such as an Epsom salt sitz bath or a baking soda sitz bath.
What to Put in a Sitz Bath
As you can see from this recipe, a mixture of salts, witch hazel, and essential oils create a very therapeutic bath that also smells enjoyable, thanks to the natural scent of the oils.
Epsom salt and sea salt are mineral-rich and therapeutic additions to sitz baths, just like they are to regular baths.
What do you put in a sitz bath for hemorrhoids? Epsom salt is a great ingredient for this common health concern. According to the Cleveland Clinic, Epsom salt is helpful along with witch hazel.
Witch hazel is pretty amazing as an astringent for the skin with its potent anti-inflammatory properties.
Essential oils are a great option too. The ones used in this recipe are all-natural anti-inflammatory and anti-bacterial.
Tea tree essential oil is a natural antiseptic with the ability to help treat wounds and infections.
Frankincense is especially well-known for its anti-inflammatory properties, and lavender oil has also been shown to provide pain-relieving effects and powerful antioxidants that can be absorbed through the skin.
If you're taking a bath for a yeast infection, baking soda is a recommended ingredient to provide relief from vulvar/vaginal burning, irritation, or itching.
How to Use
Using a Soothing Sitz Bath is really quite easy. While there are some at-home basin kits you can purchase, using the bathtub works well too and doesn't require an additional expense.
Before delving right into the how-to, there are a couple of things you need to avoid when doing sitz baths.
Do not use soaps, because they can dry out the skin and make it even more irritated. Don't rush the process.
Set up the bathroom for comfort and privacy. If you need entertainment, music, candles, etc., set them up so you have everything you need to relax.
f you plan to use a portable basin, make sure to avoid overfilling to help avoid spillage when discarding it.
Next, fill the basin or tub with warm water. If you're using the tub, fill the water about four inches deep or so the water level reaches your hips.
When you have the sitz bath temperature right, add a large spoonful of the sitz bath recipe.
Note: if using a basin, use half the recipe since you have a smaller volume of water. Pour the mixture into the bath, and swirl it around to make sure it is well-dispersed in the water.
Now you can get into the tub or lower yourself onto the seat if using the portable approach.
Plan to relax for about 15–20 minutes and add more hot water, if needed, to keep the temperature in check.
You can take a sitz bath two to three times a day, as needed until you have healed.
Once you are done, slowly get up. You may feel a bit dizzy. This is normal, but monitor yourself carefully. If you have time, allow the area to dry.
Otherwise, use a soft, non-abrasive cloth to pat the area dry. If you are using a special ointment or hemorrhoid cream for hemorrhoids, this is the perfect time to use it.
Where to Buy
It's likely that your local drug store carries the shallow basins or sitz baths that can fit over your toilet bowl. It's also not hard to find them online these days.
There are many different color options, and you can even find ones that are BPA-free.
If you don't have any interest in a DIY sitz bath recipe, it's also not hard to find bath solutions online and in stores, too.
Look for ones that contain natural ingredients that you are familiar with and avoid any solutions that contain undesirable ingredients like synthetic scents.
Precautions
Check with your healthcare provider to make sure it's acceptable for you to use anything other than warm water.
Always make sure your water is not too hot and that you're using a clean, disinfected tub or basin for the bath.
Soothing Sitz Bath is typically safe in most cases, but if you experience unusual discomfort or irritation of any sort, discontinue use and talk to your doctor.
You may experience slight dizziness as you get up from the bath since the warm water may cause your blood vessels to dilate.
This is normal, but be careful. Also, make sure to stay well-hydrated.
Be especially careful taking a sitz bath postpartum. It's a good idea to have someone nearby when you are getting in and out of the tub (or on and off the toilet).
Also, let your doctor know if perineal pain worsens after taking a postpartum sitz bath or if you experience increased redness or swelling.
Stop use and contact your healthcare provider if symptoms worsen.
Soothing Sitz Bath Recipe with Frankincense & Tea Tree Oils
Total Time: 5 minutes
Serves: 1–2 applications
Ingredients:
⅓ cup Epsom salt
¼ cup of sea salt
2 tablespoons witch hazel
10 drops tea tree essential oil
8 drops frankincense essential oil
8 drops lavender essential oil
Directions:
In a small bowl, blend the Epsom salt and sea salt.
Next, add the remaining ingredients and blend well.
Add to a warm bath (about 4 inches of water if using a tub). Use half the recipe if using a basin kit.
Sit in the bath for 15–20 minutes.