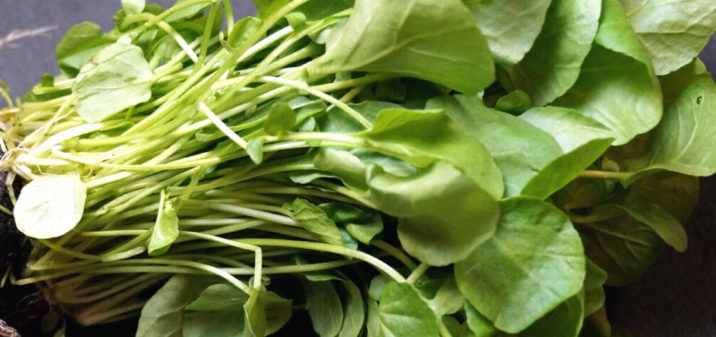 Watercress
Watercress is a cruciferous vegetable that is so good for you that the Centers for Disease Control and Prevention classified it as a "powerhouse" vegetable.
This cousin of kale has a long history as a deliciously nutritious herb and as a natural remedy for many ailments.
Plus, it's also often served in salads, added to sandwiches, and enjoyed as a lightly steamed side dish.
So why exactly does the CDC consider it such a healthy food?
Not only does research show that this nutritious cruciferous vegetable may be associated with a reduced risk of cancer,
but it could also help lower blood pressure, fight inflammation, support bone health, and more.
What Is Watercress?
Watercress is a perennial vegetable that grows naturally along running waterways, thriving in both the sun and water.
This leafy green does exceptionally well in varying soil conditions, as long as the soils stay saturated with water.
The leaves and shoots are cultivated for their culinary and medicinal uses.
While the flavor is best during the cooler parts of the year, watercress can withstand harvest throughout the winter.
However, once it blooms, the taste of watercress typically declines.
Watercress is closely related to other cruciferous vegetables such as broccoli, cabbage, and kale.
It's also widely available and can be found in the produce section of most supermarkets alongside other plants.
Keep in mind that it's important to wash thoroughly before cooking or consuming,
which is because it may contain harmful parasites and pathogens due to its growth in nearby stagnant waters.
Health Benefits
Thanks to its impressive nutrient profile, watercress has been linked to several health benefits.
Adding this leafy green to your diet can help protect against disease, fight inflammation, and promote better health.
1. May Help Reduce the Risk of Colon Cancer
As a leafy green vegetable and cruciferous veggie, watercress has secured its slot on the list of cancer-fighting foods.
This is because it's rich in vitamins, minerals, and antioxidants yet shallow in calories, fat, carbs, and sodium.
It also contains beneficial compounds such as isothiocyanates, which are naturally occurring chemicals found in many cruciferous vegetables.
Promising research shows that these compounds could possess powerful cancer-fighting properties and may even help block cancer cells' growth and spread.
Further studies have noted that these compounds, when broken down, may help protect cells from DNA damage by inactivating carcinogens.
These findings suggest this vegetable and other cruciferous veggies may help prevent and fight different forms of cancer, including liver, lung, and breast cancer.
2. Contains Useful Omega-3s
Most of us are familiar with omega-3 foods such as salmon, tuna, and mackerel.
However, did you know that you can get your fix of these heart-healthy fats by upping your intake of leafy greens as well?
While watercress contains a variety of phytonutrients, vitamins, and minerals,
it also contains a relatively high proportion of omega-3 polyunsaturated fatty acids (PUFAs), mainly in the form of alpha-linolenic acid (ALA).
The Department of Food Science conducted a study at RMIT University to determine the fatty acid content of 11 green vegetables.
Interestingly enough, the vegetables' total fatty acid concentrations in the study ranged from 44 milligrams per 100 grams wet weight in Chinese cabbage to 372 milligrams per 100 grams in watercress.
Although alpha-linolenic acid must be converted into active forms of omega-3 fatty acids—including eicosapentaenoic acid and docosahexaenoic acid—
adding watercress to your daily diet can be an effective strategy to boost your intake of omega-3 fatty acids and protect against heart disease if you don't regularly consume fish.
3. Provides Beneficial Anti-inflammatory Effects
Cruciferous vegetables are anti-inflammatory foods that contain antiviral and antibacterial effects that can help reduce inflammation.
Research published in Pharmaceutical Biology showed that administering watercress extract to subjects effectively reduced swelling and tissue damage.
Watercress is also loaded with antioxidants, which can help neutralize harmful free radicals to fight inflammation at a cellular level.
These antioxidants play a key role in maintaining immune function, enhancing eye health, promoting better blood sugar control, and more.
4. Lowers Blood Pressure
Minerals such as calcium, magnesium, and potassium all play a central role in regulating blood pressure levels.
Watercress is a great source of both calcium and magnesium and could potentially help lower blood pressure levels.
According to a recent study conducted by the King's College London British Heart Foundation Centre,
watercress and similar foods have been shown to have benefited the health of the blood vessels and may help reduce blood pressure,
block platelet aggregation and even improve endothelial dysfunction to protect against heart disease.
5. Supports Healthy Skin, Hair, and Nails
The phytonutrients found in foods like watercress can bring big benefits when it comes to the health of your hair, skin, and nails.
This is because superfoods like watercress are loaded with nutrients like calcium, magnesium, and potassium, all of which are crucial to the health of your hair, skin, and nails.
Thanks to its high water content, watercress can also promote proper hydration.
6. Strengthens Bones and Teeth
Although dairy is one of the most well-known sources of calcium, leafy greens also provide a hearty dose of calcium in each serving as well.
In addition to supplying a good amount of calcium, watercress is also a good source of magnesium and vitamin K, both of which can help maintain strong, healthy bones.
Calcium can help prevent osteoporosis, which is a disease caused by a gradual loss in bone density.
Meanwhile, vitamin K can help maintain calcium stores in the bone to maintain bone strength, and magnesium impacts bone cells' formation.
Nutrition Facts
One cup of chopped, fresh watercress contains about:
Four calories
0.4-grams carbohydrates
0.8-gram protein
0.2-gram fiber
85 micrograms of vitamin K (106 percent DV)
14.6 milligrams vitamin C (24 percent DV)
1,085 IU vitamin A (22 percent DV)
40.8 milligrams calcium (4 percent DV)
0.1-milligram manganese (4 percent DV)
Each serving also contains 7.8 milligrams of omega-3 fatty acids and 4.1 milligrams of omega-6 fatty acids.

Watercress vs. Kale
Watercress and kale are both powerhouses when it comes to nutrition.
It's been reported that watercress may rival several other superfoods in terms of its nutrient content, including Chinese cabbage, Swiss chard, beet greens, spinach, and chicory root.
Though kale may still reign as a superstar ingredient, watercress upholds the top spot in terms of nutrient-density.
According to a review published in Preventing Chronic Disease, it ranks even higher than kale, earning double the kale score for its nutrient density.
Here's a closer look at how these two veggies measure up:
Watercress
High in antioxidants, which can reduce inflammation and cell damage
Lower in calories and some nutrients than kale
Great source of vitamin K, which is good for blood clotting
High in vitamin A, which improves immune function and vision
Rich in vitamin C, a water-soluble nutrient that heals wounds and forms collagen
Loaded with calcium, which is essential for muscle and nerve function along with bone health
Kale
Contains 34 calories, 2.2 grams of protein, 6.7 grams of carbohydrates and 0.5 gram of fat per serving
High in vitamins A, K, and C
Good source of folate, which helps create new cells and prevents congenital disabilities
Rich in iron, which is necessary for red blood cell formation
It contains magnesium, which is important for the immune system, heart health, and blood sugar control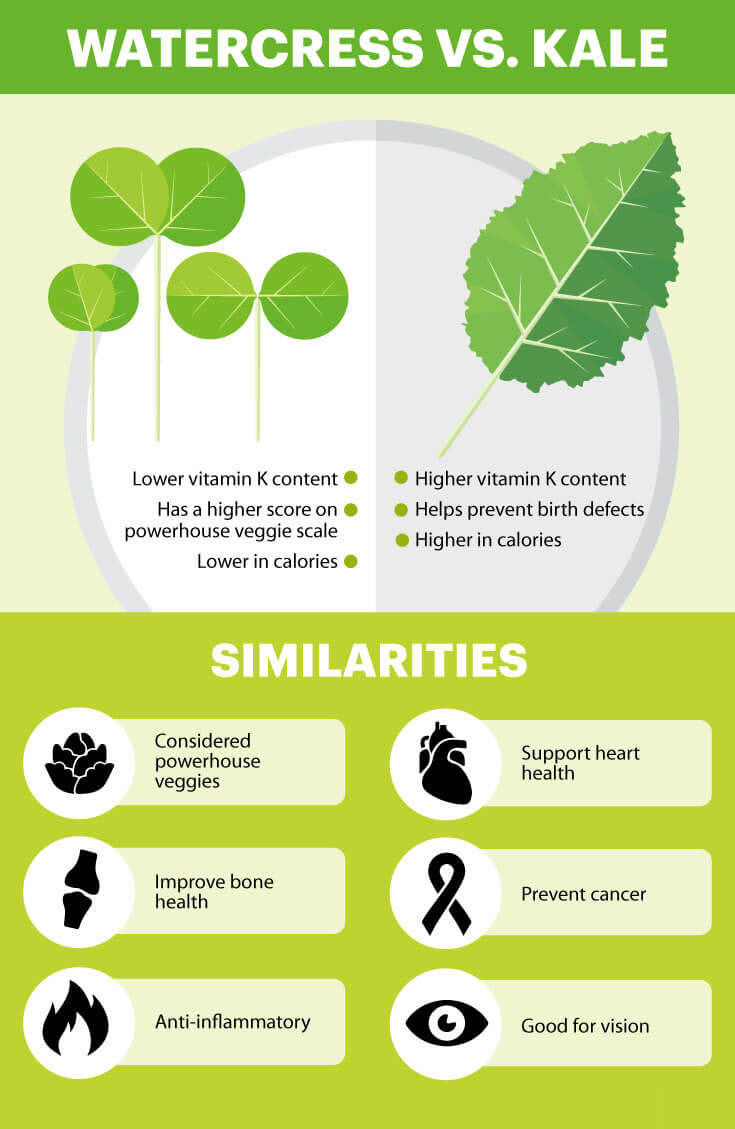 Interesting Facts
Typically cultivated in pure spring water, watercress has been labeled as a superfood for centuries.
Hippocrates was known to locate his first hospital near a stream, where watercress grows best so that his patients could be treated with it, and Greek soldiers were given watercress as a blood-cleansing tonic before going into battle.
With its tangy, peppery powerhouse of nutrients, there are many options for how to eat watercress, and it's an especially great choice for dishes such as soups, salads, and casseroles.
In the 1800s, watercress sandwiches were a staple in the diets of the working class.
It was most often eaten for breakfast as a watercress sandwich in Hampshire and Dorset in the United Kingdom, mostly because it was easily accessible and could be picked free from rivers and streams where it grew wild.
If people were too poor to buy bread for their sandwiches, they ate it on its own, making it known as the "poor man's bread."
Traditionally grown watercress is green and has a distinctive peppery, mustard-like flavor. It became known as a commercial crop in England around 1808, favored for its flavor and nutrient density.
In 1865, the Georgian town of Arlesford became the center of the watercress industry and so popular that a railway line, named the Watercress Line, was established as a route to London.
The health benefits became evident, making it in great demand and ultimately leading to commercial watercress farms throughout Hampshire.
Unfortunately, during the 1960s, the Watercress Railway Line was closed, leaving the roadways as the only option for transporting it, and 90 percent of growers left the industry by the 1980s.
The heritage railway, still known as The Watercress Line, runs from New Alresford to Alton and now features a footbridge at London's King's Cross station in the Harry Potter films.
Recipes
Wondering where to buy watercress? This delicious veggie is widely available at most grocery stores and farmers' markets, alongside other leafy greens like spinach and kale.
If you have a few watercress seeds, you can also opt to grow them at home. There are plenty of online guides for how to grow watercress, even without access to your river or pond.
Watercress is spicier than spinach, given its mustard background. It's great in salads either alone or as a blend with other greens.
It can also add a zing of flavor to sandwiches and can be pureed and added to soups for a touch of extra spice. It even goes well with melons, nuts, potatoes, sweet potatoes, beets, leeks, and corn.
You can also try breaking out the juicer and whipping up a glass of watercress juice. Its mild and refreshing watercress taste works especially well, paired with kiwi, apples, or pineapple.
Risks and Side Effects
Cruciferous vegetables are classified as goitrogens, which can interfere with thyroid hormone production when consumed in high amounts.
While most research indicates that these vegetables can be enjoyed as part of a healthy diet by those with thyroid issues,
it's best to keep your intake in moderation to reduce the risk of adverse effects on health.
Although it is generally well-tolerated by most healthy adults, it may trigger side effects like stomach pain, gas, and bloating in some people.
If you experience any adverse side effects, consider decreasing your intake and consulting with your doctor if symptoms persist.
Final Thoughts
Watercress is a leafy green cruciferous vegetable that is known for its powerful health-promoting properties.
The watercress nutrition profile is low in calories yet high in fiber and vitamins A, K, and C.
It's been linked to several health benefits and could help protect against certain types of cancer, reduce blood pressure, decrease inflammation, and promote bone health. Plus, thanks to its content of phytonutrients, there may also be watercress benefits for the hair, skin, and nails.
Apart from the many watercress benefits and side effects, it's also versatile, delicious, and easy to enjoy in a variety of different recipes.
There are several different options for eating watercress, and it makes a great addition to soups, salads, stir-fries, and sandwiches.