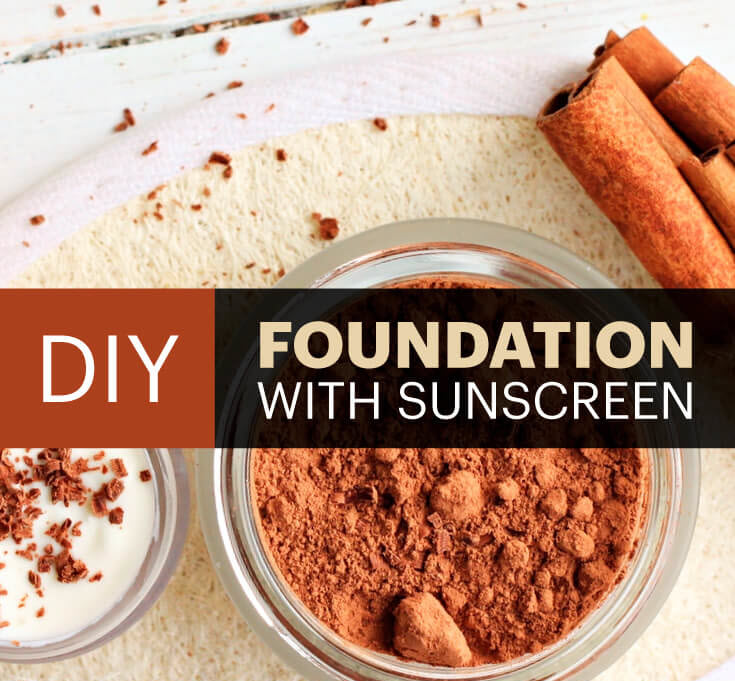 Foundation makeup has many benefits, specifically helping to smooth out the tone of the skin.
But most store-bought foundation products are filled with a long list of ingredients that can damage your skin, cause cancer, and affect your endocrine system.
It also has a long history with its appeal for stage actors created by the famous Max Factor.
Still, even the ancient Greeks and Romans wore contaminated foundation containing high levels of white lead and mercury, which caused lethal poisoning.
Some ingredients, as reported by greenamerica.org, are found to be toxic. Parabens, synthetic scents, nanoparticles, formaldehyde, mercury, and lead are just a few that can be found on most labels.
You can search for products on the Cosmetic Database website at ewg.org, but perhaps the easiest and healthiest thing to do is make your right at home.
DIY foundation makeup can be a fundamental part of your natural skincare routine.
Keep in mind that DIY makeup, as an all-natural foundation, is not as daunting to make as you may think to prepare. It is effortless and can be made with just a few ingredients.
You can even add homemade sunscreen to the mixture to ensure protection from the sun. When choosing your parts, use unrefined, raw, and organic where possible.
Let's jump into the homemade makeup that is just right for you!
---
How to Make DIY Foundation Makeup
To start making your DIY foundation makeup, measure all of your ingredients, and set aside.
Now, using a double-boiler or a glass bowl in a pan of water, turn on low heat and place the cupcake butter, coconut oil, the cocoa butter into the container.
Using a whisk, stir to blend.
Cupuacu butter is a fantastic ingredient because it is the key to this emollient-rich recipe.
Made from the pulp of the fruit of the cupuacu tree, which is native to the Amazon rainforests, cupuacu butter is a great vegan alternative.
It is more than 150% richer in its ability to hydrate the skin than shea butter. Though shea butter is a great option, if soft, supple moisturized skin is what you're after, try cupuacu butter!
Now add the vitamin E and the rosehip seed oil. Make sure to blend well. Remove from heat.
Vitamin E has long been known for its skin-healing properties.
It fights free radical damage while helping reduce inflammation, plus it's a natural anti-aging nutrient.
Chock-full of nourishing vitamins and antioxidants, rosehip seed oil may help reduce fine lines, wrinkles,
diminish those dark spots, and help hydrate dry skin, making it the perfect ingredient to this new moisturizing foundation.
Next up, add the zinc oxide and stir. Zinc oxide offers some amazing sunscreen benefits.
You need to make sure you choose the uncoated, non-nano, and non-micronized versions.
In addition to being a great sun-blocker and cancer-fighter, zinc oxide lowers skin inflammation, helps prevent acne, and locks in moisture, all the while maintaining healthy form collagen in the skin.
Now, let's add some color to your DIY foundation makeup! It is essential to be careful with the amount of cacao and cinnamon you add.
The reason is that these ingredients offer the tone of the foundation.
If you need it darker, you will want to add more. For a lighter tone, useless.
The best thing to do is start with less and test it on your jawline, in sunlight, to get just the right amount.
Make sure to pay attention to how much you use so that you can note it in your DIY makeup recipe.
To give you an idea, about a ½ tablespoon of cocoa powder will provide you with a light foundation,
add another teaspoon for a medium foundation, and one tablespoon will result in a medium-dark foundation.
Cacao is a pretty fantastic ingredient that is not only delicious in some recipes, but it's great for the skin with its high antioxidant contents.
Meanwhile, benefit-rich cinnamon is right up there with cacao in the antioxidant category and has been used medicinally for centuries.
Once you have reached your desired shade, pour the DIY foundation makeup into your container, and allow it to cool.
You can use a silicon makeup tube or a glass jar. If using a pot, make sure to wash your hands before each use to avoid contamination.
DIY Foundation Makeup with Sunscreen
Total Time: 15-20 minutes
Serves: About 5 ounces
Ingredients:
1.5 ounces cupuacu butter
2 ounces of coconut oil
0.5-ounce cocoa butter
1-ounce rosehip seed oil
⅛ teaspoon vitamin E oil
0.5 ounces zinc oxide (look for uncoated, non-nano and non-micronized)
organic cocoa powder
cinnamon or nutmeg (ginger or arrowroot powder can be used to lighten the shade)
Directions:
Using a double-boiler or a glass bowl in a pan of water, place the cupuacu butter, coconut oil, and cocoa butter and stir to blend well.
Add the vitamin E oil and rosehip oil. Blend well.
Remove from heat and add the zinc oxide. Note: The more you add, the higher the sunscreen levels.
Then, add the cacao and cinnamon or nutmeg.
Remember, the amount of these ingredients that you use will determine the shade of the foundation.
Start with less until you reach your desired shade.
Test it on your jawline in sunlight to ensure the shade that works best for you.
Store in a silicon tube or glass jar. Make sure hands are clean before dipping into the pot if you use that type of container to prevent contamination.